Grameen Sahara has a six-pronged intervention strategy which helps sustain its interventions after exit from a location/village. Given the size and its resource base Grameen Sahara does not continue its intervention in a location for long. Neither it aims to. The organization works in an area, build institutions or enterprises and exit the place handing over the support mechanism to the institute or enterprise. That is how the organizations brings sustainability to what it intends to with investment in terms of money, time, HR, strategy, etc. This has worked and Grameen Sahara will continue with this strategy for next few years. If there is any call by changing scenario, market, policy etc Grameen Sahara will adjust its operational strategy at the appropriate time. The strategies are elaborated below–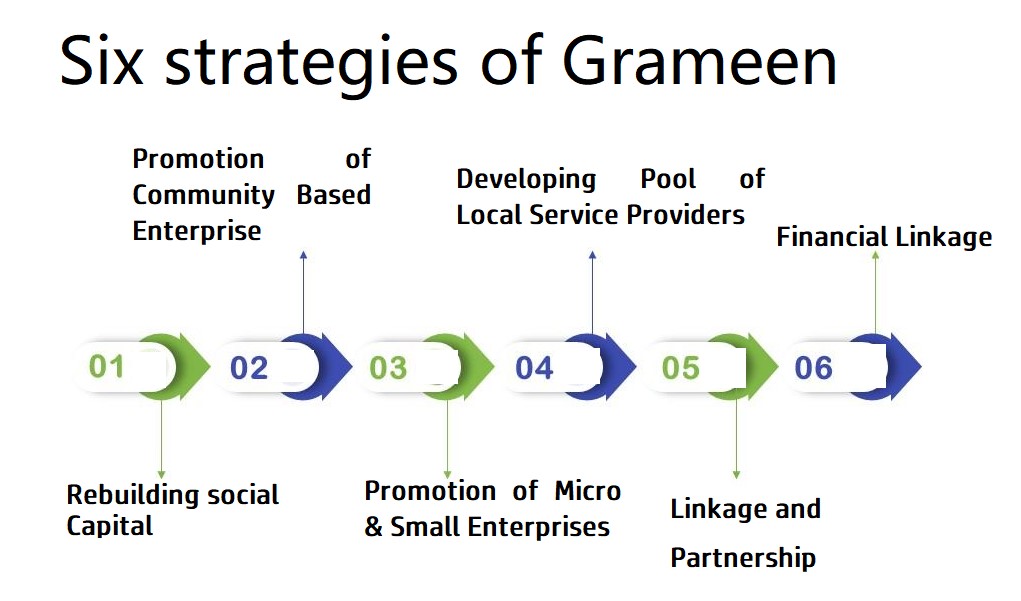 ---
1. Rebuilding Social Capital
Grameen Sahara works on strengthening the networks of relationships among people who live and work in a particular society, enabling that society to function effectively. It leads to effective functioning of social groups through interpersonal relationships, a shared sense of identity, a shared understanding, shared norms, shared values, trusts, cooperation and reciprocity. It encompasses the value of resources – both tangible e.g., public spaces, private property) and intangible (e.g., actors, human capital, people), and the impact that these relationships have on the resources involved in each relationship, and on larger groups. It is the most challenging task for Grameen Sahara.
By way of organizing, orienting, making awareness, enhancing capacities of the grass root institutions like SHGs, village organizations, FIGs, apex level institutions such as producers' cooperatives, FPCs. etc. This very strategy is aimed at improving their access to technical assistance, financial services, and livelihood options and to provide them a platform for networking, marketing, lobbying and advocacy. These institutions carry a certain set of norms that promote trust and cooperation among person in communities and also in the wider society. This social capital foster trust, mutual obligation and cooperation. We as an organization always endeavor to create individuals feel a sense of belongingness, empathy with fellow villagers, responsibility and motivation to solve common problems and so on.
2. Developing Pool of Local Service Provider
For continuation of any initiative local capacity development is crucial. Grameen Sahara does that in such a way that all initiatives are slowly made owned by the community and transformed into like a community-led approach. To build a strong knowledge base within the community by building capacities and empowering the interested individual as Community Resource Person (CRP), Field Facilitators (FF), Extension Workers (FEW), Para Professionals (PP), etc are what we do as an organization. This strategy is to equip them with the exposure, technical skills and the necessary expertise, so that these local resources are able to continue the services to sustainable agriculture long after our intervention stops. This is important for exit plan of Grameen Sahara. This has been done time and again and the organization has been able to withdraw from multiple locations.
3. Promotion of Community Based Enterprise
To give maximum benefits to the community, among many strategies, we promote community-based enterprises owned and managed by themselves. They use such platforms for the benefits of the community. They are different from private enterprise because their business activity is undertaken as a means of achieving community benefit, not private gain. To make them sustainable these enterprises are owned and controlled by the community. However, as a strategy they are run by professionals. They are mostly for-profit social enterprises. We facilitate these enterprises upscaling their businesses, reaches, generates more jobs and brings benefits to the community. These enterprises play important role in strengthening local economies. Grameen Sahara continues to mentor the enterprises promoted. 4. Promotion of Micro-Enterprises For economy to grow micro-enterprises play a very crucial role. It plays important role in employment of youths. It is one of the strategies of Grameen Sahara that individual and group of individuals are mobilized, encouraged, capacitated, provided the linkage in terms of technical assistance, marketing and finance. Thereby, it facilitates promotion of micro and small enterprises. Direct promotion, support and linkages with resource agencies etc are done by Grameen Sahara. There individual entrepreneurs who have got themselves employed and also employed other people in their enterprises.
5. Linkage and Partnership
To take the community ahead it is not possible for an institution does it alone. Domain expertise is with different resource agencies, departments and institutes. We, as an organization, collaborate and link with multiple institutions/agencies to provide all required supports in different domains. Grameen Sahara works in partnership with various stakeholders like the government, nongovernment agencies, banks and financial institutions, national/international funding and donor agencies of simi similar interest, to scale up the development interventions. This partnership and linkages help better resource mobilization, collaboration, success and better impact. By way of complementation of expertise and supply of required resources linkages play very important role in community development interventions.
6. Financial Linkage
In the livelihood framework financial capital is one of the essential components. Without financial capital the framework itself becomes incomplete. Grameen Sahara either provides credit directly or through bank Linkages. Similarly, micro insurance Services are also provided with an aim to provide security to the family in the event of unseen happening. We also organize Programs for financial literacy for better Management of financial resources by the Communities. In addition to the loans, insurance etc we also mobilize grant support to the deserving beneficiaries.